Recent Stories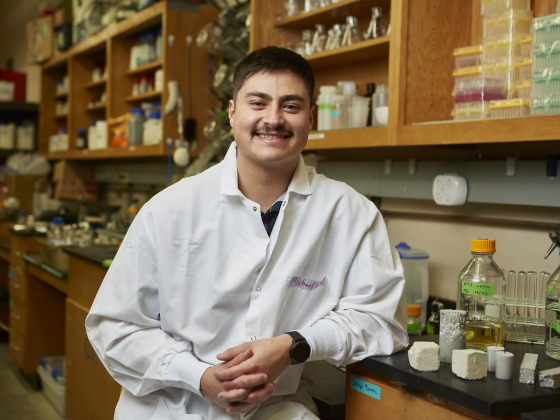 Michael Espinal, a first generation college student graduating this fall, has been active with research in MSU's engineering college. MSU Photo by Adrian Sanchez-Gonzalez
MONT Scholars recipient makes plans for grad school
Michael Espinal, a MONT Empower Scholars recipient, is preparing to take his enthusiasm for research to the next level. "Getting involved with undergraduate research has been pretty life-changing," said Espinal, who grew up in Vacaville, California, an hour's drive inland from San Francisco, and was drawn to MSU for its outdoor setting and friendly community. "It has really opened a lot of doors for me." Read the complete MSU News article here.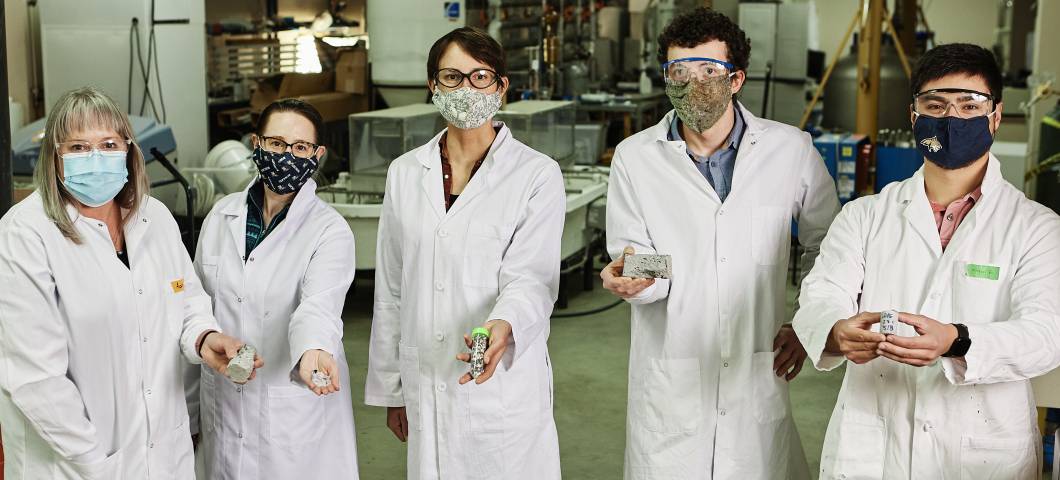 From left, engineering faculty Adrienne Phillips, Cecily Ryan and Chelsea Heveran, along with doctorate student Seth Kane and senior Michael Espinal.
MSU researchers find potential use for recycled plastic in concrete
MONT reserachers found that plastic treated with bacteria could be added to concrete in significant quantities without compromising the structural material's strength. The MSU team found that using bacteria to coat the plastic with a thin mineral layer allowed it to bind better with the cement. Concrete samples containing up to 5% of the bacteria-treated plastic had virtually the same strength as traditional concrete. Read the complete MSU News article here.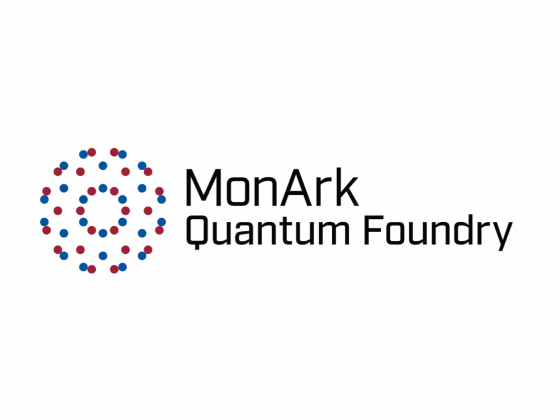 MSU awarded $20M for quantum technology development
Sept. 2, 2021
MONT facilites and reserach will be enhanced by the addtion of the MonArk Quantum Foundry. MSU and the University of Arkansas will establish the MonArk Quantum Foundry with a recent $20 million grant from the National Science Foundation that seeks to accelerate the development of quantum materials and devices.
Read more of the MSU News article here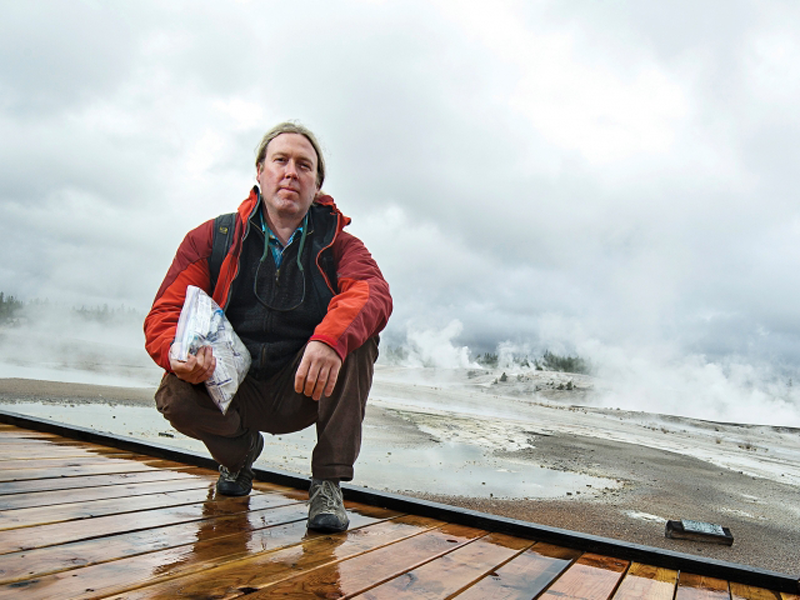 Montana State University professor Eric Boyd is pictured in the Norris Geyser Basin at Yellowstone National Park. MSU photo by Kelly Gorham.
MSU professor receives $3.4 million DOE grant to continue biomining research
June 28, 2021
The U.S. Department of Energy announced this week more than $22 million in funding focused on energy research, $3.4 million of which will fund continuing research at Montana State University into microorganisms that display the ability to extract important and useful metals from pyrite, an abundant mineral in the Earth's crust.
Read more of the MSU News article here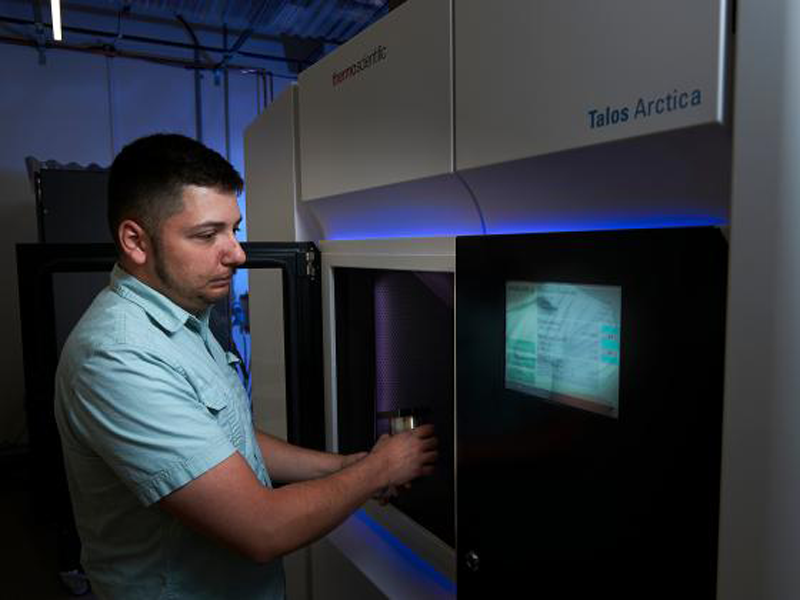 MSU graduate places a sample in a new TEM microscope
Innovative microscope at Montana State lets scientists explore molecules in 3-D, ultra-high resolution
June 17, 2021
Thanks to an innovative piece of technology, researchers at Montana State University are now able to conduct scientific exploration at a whole new level — a very, very small one.
Read more of the MSU News article here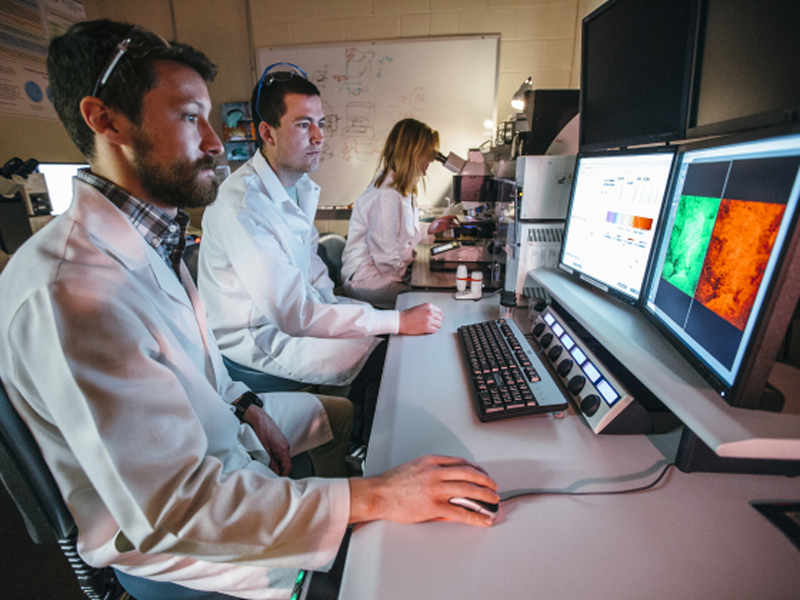 CBE adds new capabilities
April 26, 2021
A new grant from the M. J. Murdock Charitable Trust will support ongoing efforts by Montana State University to significantly upgrade microscopy equipment, fostering world-class biofilm research aimed at, among other things, preventing metal corrosion, treating life-threatening infections and stopping leaks in oil and gas wells.
Read more of the MSU News article here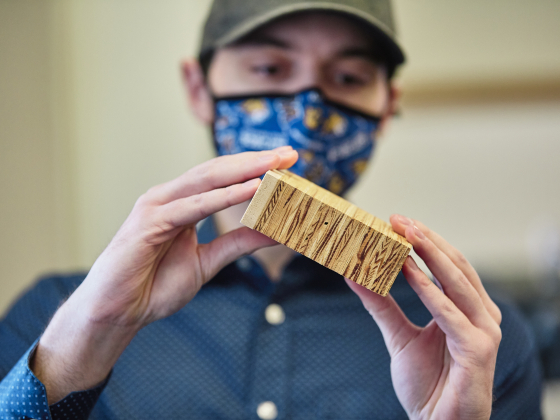 Student Shawn Heilman holds a wood sample. MSU Photo by Adrian Sanchez-Gonzalez
MSU researcher developing new wood treatment with nanoparticles for improved lumber
March 4, 2021
Dilpreet Bajwa, professor in the Department of Mechanical and Industrial Engineering, is studying how to inject cellulose nanocrystals into tiny air pockets in wood to improve the material's strength and consistency.
Read more of the MSU News article about Dilpreet Bajwa here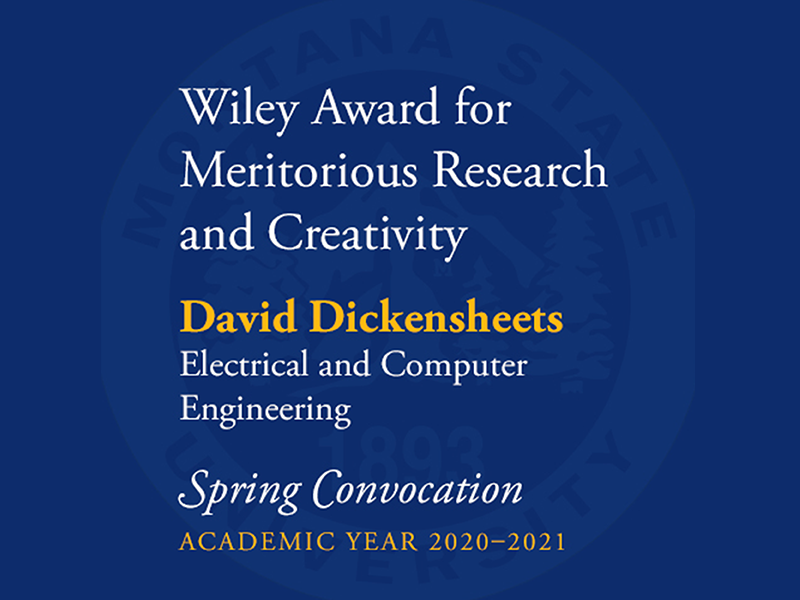 MONT Director Receives Award for Research and Creativity
February 4, 2021
David Dickensheets, Professor in the Department of Electrical and Computer Engineering and founding director of MONT, won the Charles and Nora L. Wiley Award for Meritorious Research and Creativity. He will recieve a 2,000$ honorarium for the contributions his research has done for improving optical technology. In the field of microfabrication, he is considered a international leader and pioneer in optical devices.
Read more of the MSU News article about David Dickensheets here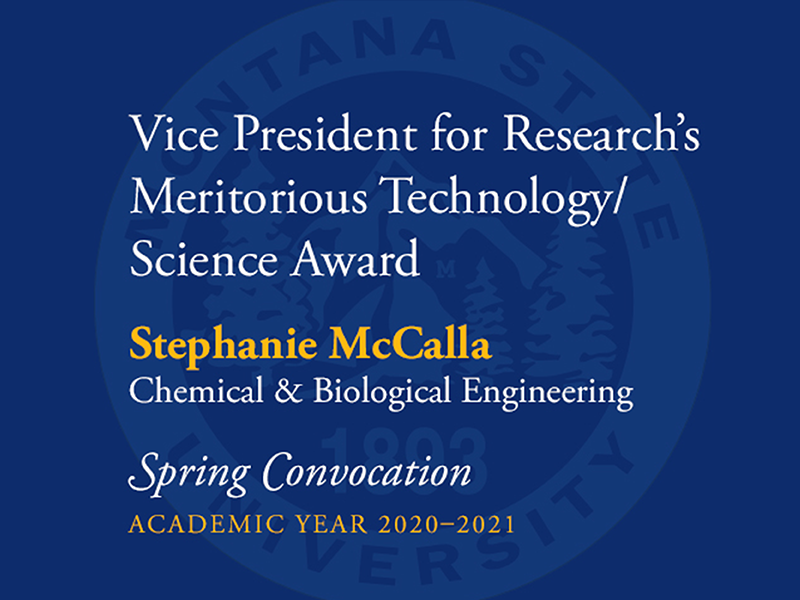 MONT Assistant Director Wins Meritorious Technology/Science Award
February 5, 2021
Stephanie McCalla, an associate professor in the Department of Chemical and Biological Engineering, has recieved the Vice President for Research Meritorious Technology/Science Award. Her research in biochemical reactions has allowed for earlier detection of cancer or dramatic brain injury before symptoms begin to emerge.
Her mission to make thoughtful change in solving many of today's problems has allowed her work to potentially enter the private sector.
Read more of the MSU News article about Stephanie McCalla here
Past Stories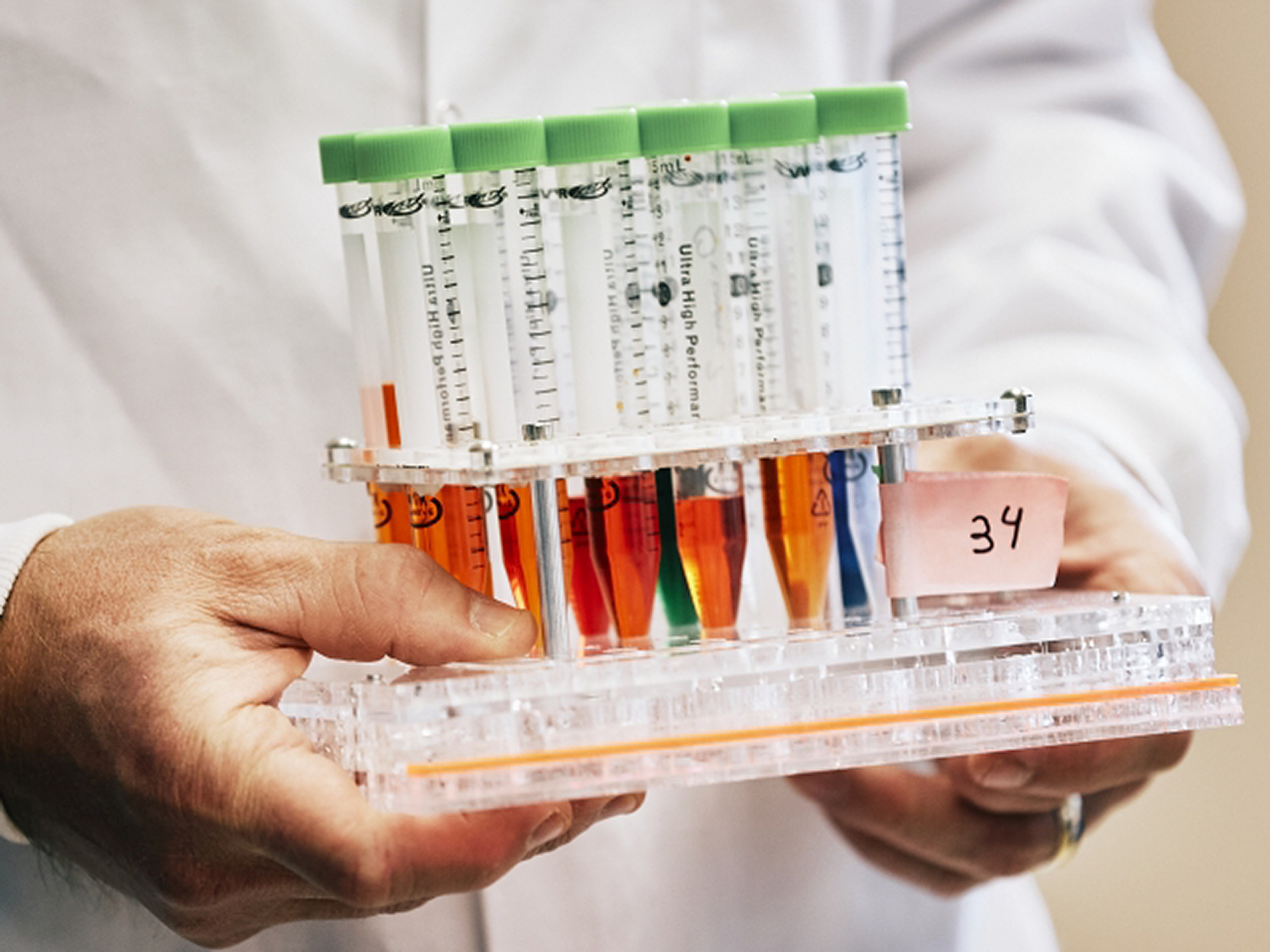 A scientist holds sample tubes in Montana State University's COVID-19 testing lab.
MSU team receives $776K grant to develop new, complementary COVID-19 testing method
October 19, 2020
The team, led by MONT researcher Connie Chang, will work on validating the LAMP testing method, a rapid test that could complement the standard nasal swab COVID-19 test.
Read the MSU News article about the LAMP testing method here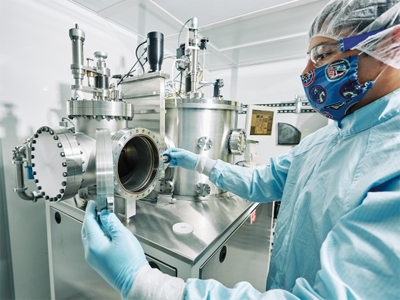 An electrical engineering graduate student preparing equipment at the Montana Microfabrication Facility.
MSU wins $3 million grant for providing nanotechnology resources to region
September 1, 2020
The five-year funding renewal for the Montana Nanotechnology Facility by the NSF ensures the MSU facility can provide cutting-edge equipment and technical assistance for research and development.
Read the MSU News article about the NSF grant here.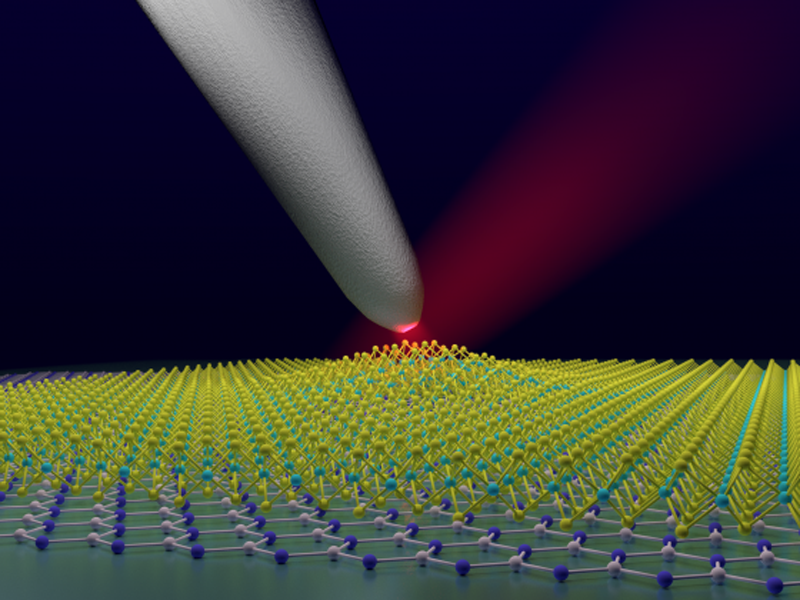 Artist's depiction of the nano-optical measurement technique used to probe nanobubbles of monolayer WSe2. Rendering courtesy Nicholas Borys.
MSU researchers find nanobubbles may hold a key to quantum technologies
July 15, 2020
Researchers from Montana State University, working with colleagues at Columbia University, have made a breakthrough in the science of materials used for quantum information technologies with a study involving two-dimensional materials and individual photons of light.
Read more of the MSU News article here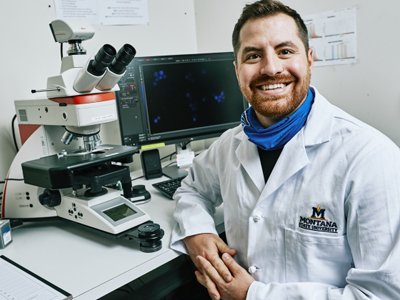 George Schaible in Roland Hatzenpichler's lab. MSU Photo by Adrian Sanchez-Gonzalez.
MSU graduate student wins prestigious NASA award to study unique bacteria
July 1, 2020
Continuing a research interest that began while studying microbes in Yellowstone National Park's hot springs as an undergraduate, and now backed by a prestigious NASA grant, Montana State University graduate student George Schaible will investigate unique bacteria that could provide insights into how multicellular life evolved.
Read the MSU News article about George Schaible here.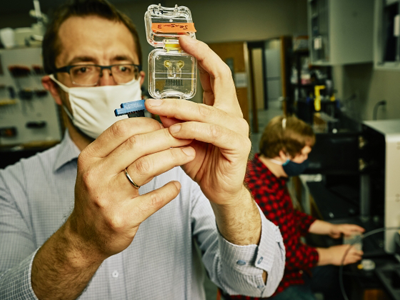 Stephan Warnat, left, and doctoral student Michael Neubauer, work in their lab. MSU Photo by Adrian Sanchez-Gonzalez.
MSU researchers harness 3D printing to
open new doors for microfluidics
June 22, 2020
A team led by Stephan Warnat, assistant professor in the Department of Mechanical and Industrial Engineering in MSU's Norm Asbjornson College of Engineering, has developed a new method of using 3D printing. This method can make devices for microfluidics, which involves manipulating very small volumes of liquid to measure water quality or study microorganisms.
Read the MSU News article about Stephen Warnat here.
Architectural rendering of MSU's Applied Research Lab.
MSU-Industry partnership awarded $10.5 million by Air Force for advanced optics research
December 18, 2019
Under a $10.5 million Air Force contract awarded in September and made possible by a new Montana State University research facility, MSU researchers will assist local high-tech company S2 Corp. with developing next-generation optics technology.
Read more of the MSU News article here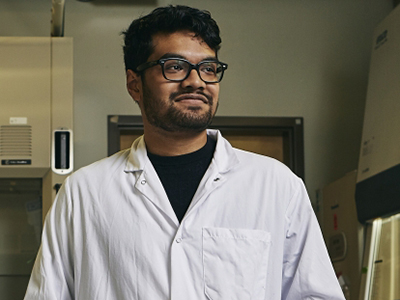 MSU Photo by Adrian Sanchez-Gonzalez.
MONT undergraduate Hammad Khan is making his mark in the Kunze lab
November 7, 2019
Khan is becoming a capable researcher and contributing significantly to progress in the Kunze lab. MONT supported Khan's trip to Cornell Univeristy to attend the 2019 REU NNCI Convocation.
Read the MSU News article about Khan here.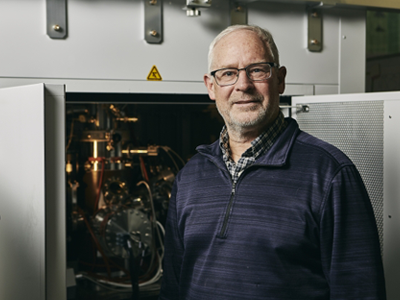 MSU Photo by Adrian Sanchez-Gonzalez.
MONT PI David Mogk has article published
in Science
May 9, 2019
Dave Mogk, professor of earth sciences and MONT PI, has co-authored a review article published in Science. The article, "Natural, Incidental and Engineered Nanomaterials and Their Impacts on the Earth System," details three types of nanomaterials present in Earth's system and their impact on the environment and humans.
Read the MSU News Service article here.
Connect to the full Science article here.
Access the companion educational materials here.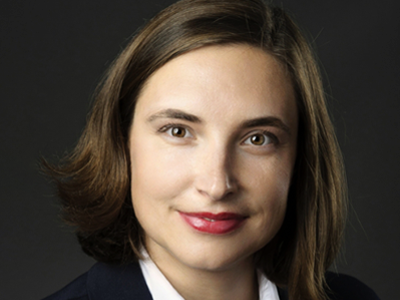 Anja Kunze, MONT researcher, garners
NSF CAREER award
March 15, 2019
Dr. Anja Kunze, Department of Electrical and Computer Engineering, has won a prestigious NSF CAREER grant. Kunze is investigating how magnetic forces precisely applied to brain cells may lead to advances in treatments for degenerative brain conditions.
Read the MSU News article about Dr. Kunze here.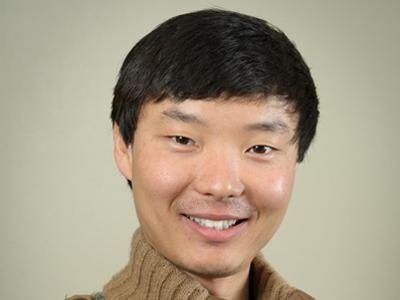 Tianbo Liu has paper featured in JMEMS
June 20, 2018
Tianbo Liu, a PhD candidate the Dickensheets research group, has a paper featured in the current Journal of Microelectromechanical Systems. The paper demonstrates a micro-electro-mechanical systems (MEMS) beam scanner capable of biaxial scanning with simultaneous focus control, for integration into a handheld confocal microscope for skin imaging. This instrument presents the possiblitly of non-invasive cell imaging and elimiates the need for painful and costly biopsies.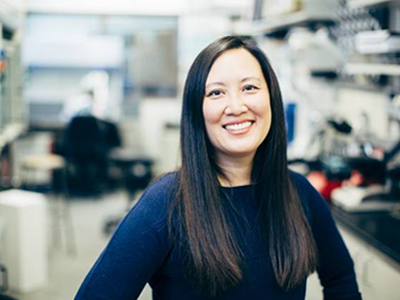 MSU Photo by Adrian Sanchez-Gonzalez.
MONT researcher Connie Chang wins
NSF CAREER Award
June 5, 2018
Connie B. Chang, Assistant Professor of Chemical and Biological Engineering recently received the National Science Foundation's Faculty Early Career Development (CAREER) award for her research on assembling and studying biofilms.
Read the MSU Article about Connie here.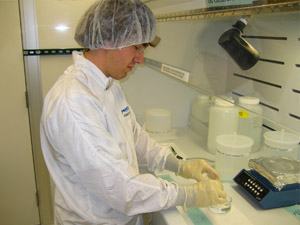 Student working in a MONT facility lab.
Murdock Charitable Trust Invests in MONT
2017
To support the diverse, active and relevant lines of discovery and learning at MSU, the MJ Murdock Charitable Trust has awarded the Montana Nanotechnology Facility a grant to expand the facility to include soft-lithography and enhanced thin films capabilities. Enhanced capability for deposition of thin films is needed especially by researchers working in nano-bio-systems and energy, and will be broadly used by our nanotech community.
Watch a video on this award produced by the Trust here.
Other Stories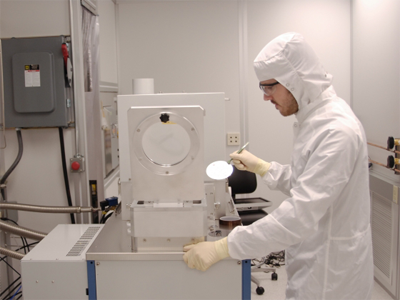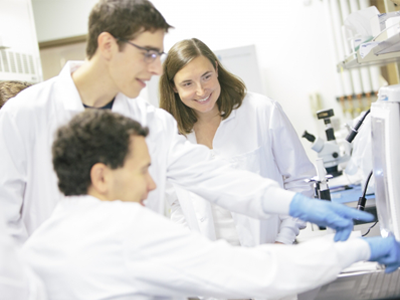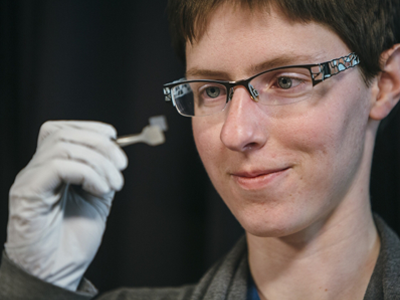 MSU Photo by Kelly Gorham
MSU Photo by Adrian
Sanchez-Gonzalez
MSU photo by Adrian
Sanchez-Gonsalez
Electrical engineering senior
Erwin Dunbar working at MMF.
Anje Kunze, right, works the
students in her lab.
Carol Baumbauer inspects
a silicon chip.